Kongtrul's Jonangpa Connections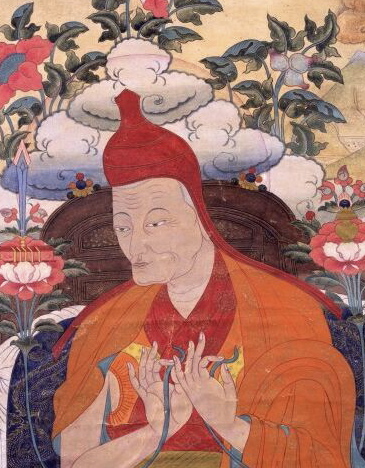 One of the most fascinating figures in Tibetan history, Jamgon Kongtrul Lodrö Thayé (1813-1899) is also one of the most studied Tibetan masters. In addition to several articles on his life and works, numerous volumes of his writings and compendiums have now been translated into English and other European languages, including his autobiography, A Gem of Many Colors.[1] Though his works are well known and he is often considered a reviver of Tibetan traditions including the Jonang, his connections with Jonangpa masters have not been made explicit. In order to reveal some of these connections, I recently started to sift through his record of received transmissions (gsan yig), and I thought to jot a few notes here.[2]
Along with his friend and mentor Jamyang Khyentse Wangpo (1820-1892), Kongtrul is best known as the progenitor of the Rimè project, an intellectual movement that sought to consolidate the living instruction lineages of Buddhism in Tibet in order to emphasize eclecticism and preserve these instructions for future generations. Together with the visionary Chogyur Dechen Lingpa (1829-1870), these three are credited with bringing forth a revival of Buddhist culture in Kham during the late nineteenth century. Among the many transmissions that Kongtrul received from Jamyang Khyentse — including the One Hundred and Eight Instructions of the Jonang, it is worth noting that several were passed to Khyentse from the Zhalu master Losal Tenkyong (b. 1804). This is particularly relevant because it was Losal Tenkyong who facilitated the re-opening of the printing house at Takten Phuntsok Ling Monastery after it was sealed for over two centuries, allowing the works of Tāranātha and other Jonangpa masters to be printed again in Central Tibet.
In his record, compiled by Tashi Chöphel in two volumes, it states that Kongtrul received the lineage of reading transmissions (lung) of Dolpopa's works from Karma Tenpa Saljé. Though I have yet to identify this lama, it seems as though it was not Ngawang Tenpa Saljé who was the sixth vajra-master of Tsang Chen Monastery in Dzamthang since he was not born until 1878. Regardless, Kongtrul's record then identifies the previous masters in this lineage as being Mipham Thrinlé Rabten who received the transmission from Lama Sonam Chodrak who in turn received it from Ngawang Chöphel.[3]
Though the lineage continues to be traced back to Dolpopa sequentially, I want to pause on Ngawang Chöphel (1788-1865). Ngawang Chöphel was the inheritor of the seat at Jonang Tsang Chen Monastery and was its first vajra-master, several generations after it was established. In the year 1848, Kongtrul traveled to Dzamthang in order to receive transmissions from this master. Among these were the transmissions for the sixfold vajrayoga of the Kālachakra according to the Jonang tradition, instructions on zhentong, and a cycle of teachings on chöd. Kongtrul also recounts in his biography having received instructions from other masters at Dzamthang on how to conduct a personal retreat according to the oral tradition of Vajrabhairava, though he does not list their names.[4]
Returning to Kongtrul's record, it then goes on to list the lineage from which he received transmission for the works of Tāranātha. Following the line from Tāranātha's disciple Yeshe Gyatso this lineage then passes on through Karma Ödsal Gyurmé from whom Kongtrul received this transmission. Karma Ödsal Gyurmé was a student of Karma Ratna and is also referred to as Lama Gonpo Tsewang. According to the history of the Jonangpa, he met Kongtrul on his way to Gyalrong as he was traveling from Dzamthang, and it appears as if he conferred numerous transmissions upon Kongtrul during their time together.
Adjacent to this lineage, Kongtrul's record lists an alternative lineage of transmission for his reception of the works of Tāranātha, starting with Tāranātha's disciple Rinchen Gyatso, and then passing through the master from Katok Monastery Rigzin Tsewang Norbu (1698-1755) several generations later, then being passed to Kongtrul from Karma Tsewang Kunkhyab. This was Zurmang Tsewang Kunkhyab, a main disciple of Situ Paṇchen Chökyi Jungné (1700-1774) who was also a lineage-holder of numerous Jonang transmissions and someone who seems to have played a pivotal role in the intersections of these lineages.
It's important to keep in mind that a generation before Kongtrul and his colleagues set the Rimè movement in motion, in those same regions of Kham, the scholar Rigzin Tsewang Norbu and his close friend the polymath Situ Paṇchen were also active in restoring the diversity of scholastic and artistic traditions to Tibetan intellectual life. Interesting enough, the lineage relationships forged by Tsewang Norbu and Situ Paṇchen are often considered precursors to Kongtrul's Rimè approach, and in many ways, their activities were a catalyst for Rimè eclecticism.
All three of these figures are known to have received Jonang transmissions, each are portrayed as a "reviver" of the Jonangpa, and both Situ Paṇchen and Kongtrul considered themselves rebirths of Tāranātha. Though the intricate relationships between each of these masters and their Jonang teachers is a topic beyond the scope of this short blog post (and a topic that I'm exploring elsewhere), I wanted to bring attention to the lives of Tsewang Norbu and Situ Paṇchen in establishing the formation of these historic relations and the unfolding of this interlineal narrative.
It is well known that Kongtrul appropriated a certain brand of zhentong in his own writings, that he edited and re-compiled several of the works of Tāranātha on the Kālachakra and other tantric systems, that his famous Treasury of Spiritual Advice (Gdams ngag mdzod) was inspired by the One Hundred and Eight Instructions of the Jonang preserved by the Jonang master Kunga Drolchok (1507-1566), and that he even considered himself an inheritor of Tāranātha's reincarnation line. With these influences in mind, and Kongtrul's emulation of Kunga Drolchok's and Tāranātha's vision of synthesis, the pattern of these lineage crossings is important for understanding both modern Jonang history and the Rimè project as a whole. Though this is all very terse at this point, and is a topic that I'll continue to elaborate on, these were a few of the major lines that were drawn between Jamgon Kongtrul and his Jonangpa connections.
This also appears on the TBRC Blog.
---
Endnotes:
1. Barron, Richard (trans). The Autobiography of Jamgon Kongtrul: A Gem of Many Colors. Tsadra Foundation Series. Ithaca: Snow Lion, 2003.
2. Bkra shis chos 'phel, Kong sprul gsan yig. 2 vols. Carved from the Dpal spungs blocks. Unpublished. TBRC W29706.
3. See Bkra shis chos 'phel, f. 503 in TBRC format.
4. See Barron, 75.