Shangpa Sites on Tibet Map
The Shangpa Kagyu tradition has had close historical connections with the Jonang since the sixteenth century. Starting with Kunga Drolchok, and his lineage successor Taranatha, the Jonang and Shangpa transmissions have passed in sync up to the present day. For more on these connections see the post, On the Shangpa & Jonangpa.
Because of the closeness between these traditions, and our work to preserve the Jonang Buddhist tradition and its affiliates, we have begun to document the Shangpa tradition in Tibet. Field work began on this project this past summer on the Jonang Foundation pilgrimage to central Tibet when we were able to locate several Shangpa sites. We hope to extend this research on and preservation of the Shangpa as an integral part of our ongoing work at the foundation.
To date, recent scholarship has only recorded a handful of Shangpa sites in Tibet. We have located 17 sites to date, both historical and contemporary. These sites are now located on the Jonang Foundation site map.
To view the Shangpa sites on the map, view main page of the Sites Database – and click on the Shangpa Sites tab to see the list of sites,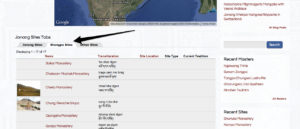 View the Full Sites Map and select the facet Shangpa Sites to see the Map of Shangpa Sites.
Scroll over each balloon on the map to see the site or click on a site to see the full page for that particular Shangpa site, such as Zhang Zhung Dorje Den.