Dolpopa's Song of Auspiciousness in Translation
We are happy to make a new translation of a song of auspiciousness by Dolpopa available to download and share.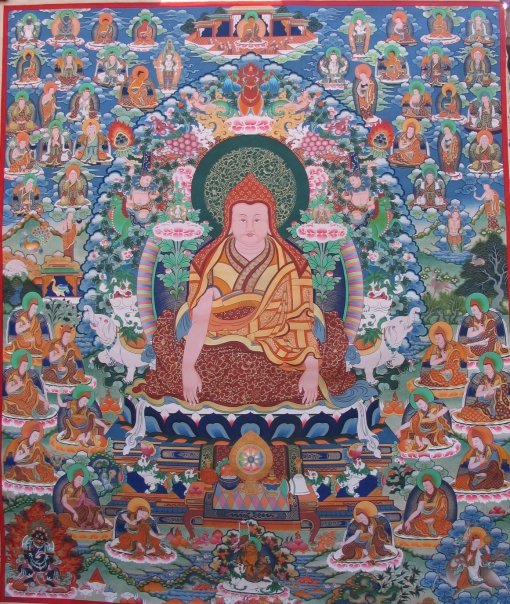 The newest contribution to the Jonang Foundation online library is a translation by James Rutke of Dolpopa Sherab Gyaltsen's song, translated as, Buddha Nature's Auspiciousness.
What Dolpopa has done in this song is deconstruct the common Tibetan expression "Tashi Delek" (bkra shis bde legs), turning it into an uncommon expression of auspiciousness by interpreting the phrase in the context of the Tibetan technical term for buddhanature (i.e. bde gshegs snying po).
The translation, Buddha Nature's Auspiciousness, is based on two sources of the text available in Tibetan. The colophon in the version of this text found in Dolpopa's Collected Works makes this uncommon rendering explicit, playing on the words. This same passage in the other version of the text consulted, that in a collection of Jonang liturgies (chos spyod) has a more literal reading [gang legs instead of gang lags at the ending of the second to last line in the stanzas].
Select verses from Dolpopa's song, Buddha Nature of Auspiciousness,
Auspicious – the bliss where adherence to the senses is abandoned,
That bliss which, arising from space, pervades space completely,
As non-referential compassion, Buddha Nature good in that way,
May its auspiciousness bring peace to you today!
…
Auspicious – what has knower and known as a single body,
The pure form of the three realms free of birth and death,
Kalachakra Buddha Nature good in that way,
May its auspiciousness bring peace to you today!
Download the translation from the Jonang Foundation Online Library.
*Content on the Jonang Foundation site is under Creative Commons License. Jonang Foundation materials can be shared and adapted for non-commercial use as long as there is full attribution of the creator and source. See footer.