Jonang Khenpo Nangwa Rinpoche in Switzerland
Khenpo Choekyi Nangwa Rinpoche from Jonang Shimla Monastery in India will be teaching and giving a series of empowerments in Switzerland from Feb. 27 to March 05, 2014.
Khenpo Choekyi Nangwa Rinpoche is the Abbot of 
Jonang Takten Phuntsok Choling Monastery 
in Shimla, India. Born and trained in the Jonang tradition inside Tibet, he has lived in India since 1993, and served as abbot of the Jonang Shimla monastery since 1998. This is an extraordinary opportunity to recieve teachings from Rinpoche.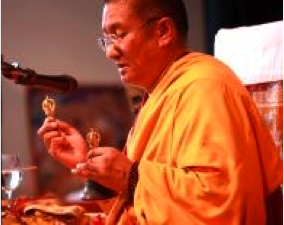 Buddha Amitabha Empowerment and Teachings
The red Buddha Amtithaba lives in the mandala of the five cosmic dhyani Buddhas in the west. He is the Buddha of infite light and of discerning wisdom. Whomever relies on him is said to be reborn in the pureland of Amithaba, Sukhavati. The five cosmic buddhas represent the transformation of the five afflictive emotions into the five pristine wisdoms. Amitabha belongs to the lotus family.
Thursday, Feb. 27, 2014 at 6.00 pm to Sunday at 1.00 pm
At Ganden Chökhor-Tibetisch-Buddhistisches Meditationszentrum
Pradaschier 20, Postfach 108, CH-7075 Churwalden
Tel:+41 (0)81 356 22 80, 076 533 53 57
Green Tara Empowerment and Teachings
Tara is considered to be "the mother of all Buddhas." Green Tara is a specific form that saves swiftly from the eight kinds of fear.
Monday, March 03 at 6.00 pm to Wednesday at 1.00 pm
At Stiftung Felsentor, Rigi, Romiti-Felsentor, CH-6354 Vitznau
Tel: +41 (0)41 397 17 76
Teachings will be in the Tibetan language with translations into English and German. Reservations can be made directly online at each center .