Throughout my readings on the Jonangpa in English, I've noticed the (all too) common attribution of either Yumo Mikyo Dorje or Dolpopa Sherab Gyaltsen as the "founder" of the Jonang tradition.[1] Though Yumowa was a major figure in the transmission of the Drö Kālachakra lineage as it was received by the Jonangpa, and was a prominent forefather of the tradition, its unlikely that he even heard the word "Jonangpa" in his lifetime.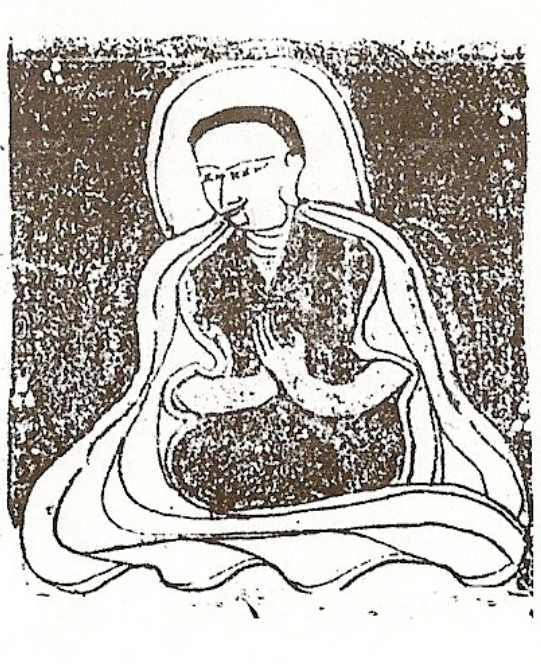 The term was coined during the time of Kungpang Thukjé Tsöndru (1243-1313),[2] the master who later inherited the Drö Kālachakra lineage as it was transmitted through Yumowa, and the first in the lineage to settle in the valley named "Jomonang." He was the 1st Jonangpa.
An intriguing figure, Kunpangpa studied the Kālachakra with his teacher Chöku Odzer, and seems to have spent a good deal of time at both Sakya and Ngar monasteries ― the two major establishments of Buddhist learning in Central Tibet at that time. Though its safe to say that he was deeply influenced by his training and experience at Sakya (as is made evident by his name listed in tantric lineage accounts of the Sakyapa), it was his concern with the Kālachakra that gives us reason to remember him today.
Kunpangpa was a synthesizer. He was concerned with bringing together the many disparate streams of esoteric transmission that were being received by the Tibetans from their Indian and Kashmiri gurus. Though this style of writing is exemplified in his condensation of the Lam 'bras teachings according to the Sakyapa (a text that is yet to be recovered), its best found in his essential commentary (snying 'grel) on the Kālachakra Tantra.
Its understood that Kunpangpa taught his essential commentary on the root Kālachakra Tantra along with the Vimalaprabhā twice a year while living at the Great Mountain Retreat in Jomonang. This text, along with many of his shorter works, sought to condense the practice instructions on the Kālachakra's 6-fold vajrayoga (sbyor drug, "six yogas"), integrating the 17 distinct lineages of the Kālachakra that were being transmitted from India into Tibet. These writings are the earliest records of the oral transmission lineages (snyan brgyud) of the Kālachakra, and the first extensive guidance texts (khrid yig) on the vajrayoga of the Kālachakra that were composed in Tibet.
We at Jonang Foundation have fortunately uncovered several of these rare texts. Among the works of this 1st Jonangpa, Kunpang Thukje Tsondru (Kun spangs thugs rje brtson 'grus) are:
Dus 'khor snying po'i 'grel mchan
. Beijing: Dpal brtsegs bod yig dpe rnying zhib 'jug khang, 2007. /
Dpal dus kyi 'khor lo'i rnal 'byor yan lag drug gi 'grel pa snying po bsdus pa
Gdams ngag mdzod
, 10, 15-24. Delhi: N. Lungtok and N. Gyaltsan, 1972.
__________. Sbyor drug gi ngo sprod. Unpublished manuscript.
__________. Sngon 'gro'i khrid yig. Unpublished manuscript.
__________. So sor spong dang bsam gtan gyi khrid yig. Unpublished manuscript
__________. Rnal 'byor yan lag drug pa: Sha ba ri pa sbyor drug. Unpublished manuscript.
__________. Sha ri dbang phyug gi gzhung khrid yig. Unpublished manuscript.
__________. Zab lam gyi bar du dge ba'i khrid. Unpublished manuscript.
__________. Zab lam gyi tha mar dge ba. Unpublished manuscript.
__________. Bla ma'i rnal 'byor. Unpublished manuscript.
I hope to have the occasion to comment on aspects of these early Jonang Kālachakra works in later posts, but wished to list them here as a start.
---
Endnotes:
1. The most recent in-print occurrence that comes to mind is the introduction in Baker, W. Essence of Ambrosia: A Guide to Buddhist Contemplation, xv. By Tāranātha. Dharamsala: Library of Tibetan Works and Archives (LTWA), 2005.
2. For a biography of Kunpangpa, see Byang sems rgyal ba ye shes. Dpal ldan dus kyi 'khor lo jo nang du brgyud rim bla ma'i rnam thar, 2nd edition. Beijing: Mi rigs dpe skrun khang, 2007.